Healthy drinks for healthy smiles
A smile is the purest human expression of joy and happiness and also the simplest way we can create real human connections.
Behind that smile is a key gateway to health, the mouth. Oral health is an important indicator of general health and quality of life. I want to make it easier for you to care for your oral health everyday.
While many people are becoming health conscious and reducing sugars, when it comes to maintaining good oral health, we should be thinking about the acidity of food and drink too.
As a dentist, I see the damage caused to teeth by sugary and acidic drinks everyday. When I would advise my patients on ways to prevent damage to teeth like dental decay and erosion, my patients and I would have a conversation about drink choices. It was over 12 years ago that I realised that the healthiest drink options for healthy teeth are tap water (because even most bottled waters are acidic!) and tea. There weren't any other drinks I could recommend to them to reduce their risk of dental disease.
I set out to develop a drink that I would be confident to recommend to my patients to help them maintain their oral health. The philosophy was simple: sugar-free, pH neutral (non-acidic) and free from artificial colours, flavours and preservatives. Then I wondered, instead of just making a drink sugar-free and pH neutral, could we also add ingredients that promote good oral health?
Ten years of research and development later, Swirlit was born.
– Angie Lang
Did you know that most dental problems are preventable?
Choosing healthy drink options that are sugar-free and non-acidic greatly reduces the risk of dental decay and erosion. We made Swirlit so you can feel good about your drink choices.
Tap water is great, but if you're after something refreshing, tasty and good for you, you can't go past Swirlit.
Tea based, delicious and full of dentist approved healthy ingredients, you can feel the goodness!
So what's so great about Swirlit?
Swirlit is the world's first functional oral health drink.
Every ingredient is backed by science, and is recognised for their benefits in oral health.
Swirlit contains a base formula of plant based ingredients xylitol, erythritol and grape seed extract which actually helps reduce plaque in the mouth and reduce the risk of dental decay. Xylitol also helps to buffer or neutralise acids.
Acacia, guar and xanthan gums and xylitol are plant based prebiotics that are also great for oral health and gut health. These ingredients also give Swirlit a silky smooth texture, which leaves the mouth feeling hydrated and relieve that dry mouth feeling. We've added vitamins D, E, folate, co-enzyme Q10 and zinc for their benefits in supporting healthy gums and oral soft tissues.
The ingredients use in Swirlit are also a source of antioxidants and polyphenols.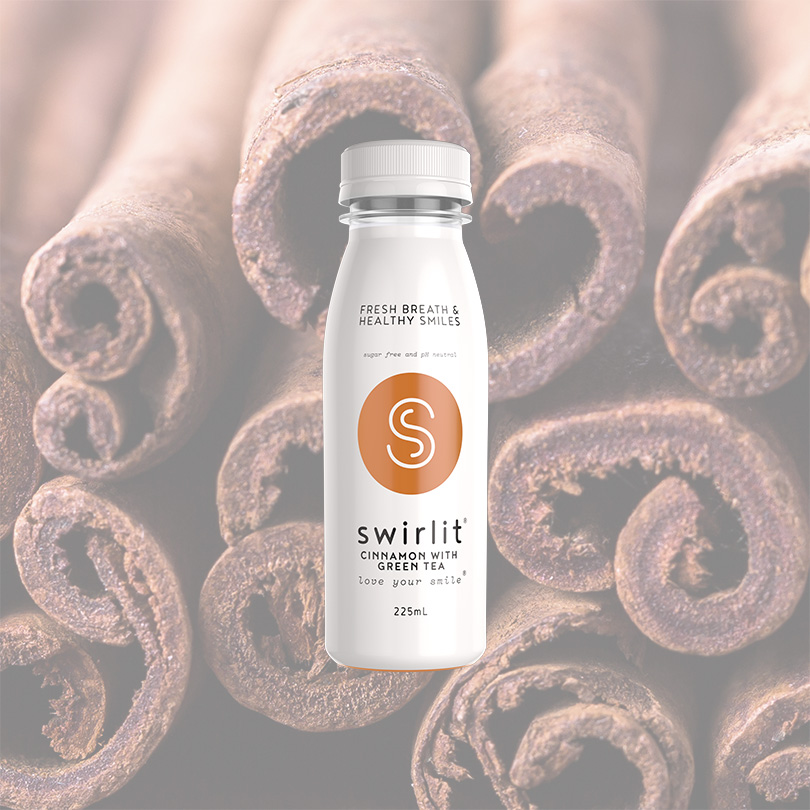 Swirlit Cinnamon and Green Tea
Swirlit Cinnamon and Green tea has a unique flavour that is a cross between chai tea, cinnamon doughnuts and Christmas! It will leave your mouth feeling fresh, clean and hydrated.
Harnessing the anti-inflammatory and antioxidant benefits of cinnamon, clove and green tea, as recommended by grandmas the world over, and used as remedies in dentistry for centuries! Green tea helps to reduce plaque formation on teeth and promotes healthy gums. The combination of ingredients will give you fresh breath confidence!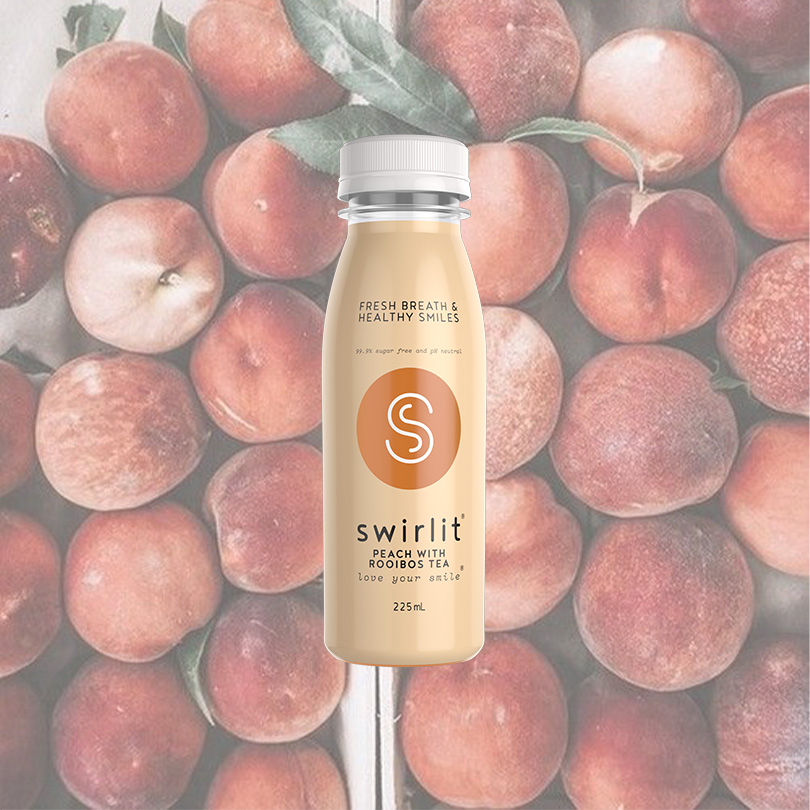 Swirlit Peach and Rooibos
Imagine the smell of the skin of a fresh juicy peach, the refreshing taste of ice tea, and you have Swirlit Peach and Rooibos! It will leave your  mouth feeling fresh, hydrated and smooth, with a silky texture.
Peach extract and Rooibos are sources of antioxidant polyphenols and flavonoids, which promote healthy gums. Rooibos is a red tea from South Africa that comes from the red bush and naturally has a sweeter taste than white, green
Swirlit Blueberry and Black Tea
Imagine the smell of a fresh punnet of blueberries, the taste of a blueberry muffin, a silky texture that leaves your mouth feeling fresh, smooth and hydrated – and you've got Swirlit Blueberry and Black Tea!
The powerful antioxidant, anti-inflammatory and antibacterial properties of the polyphenols in blueberry extract help promote healthy gums and reduce the risk of tooth decay.
Black tea polyphenols also reduce bacterial activity in the mouth. The great thing about Swirlit Blueberry and Black Tea is that  Swirlit won't stain your teeth like a regular cup of black tea!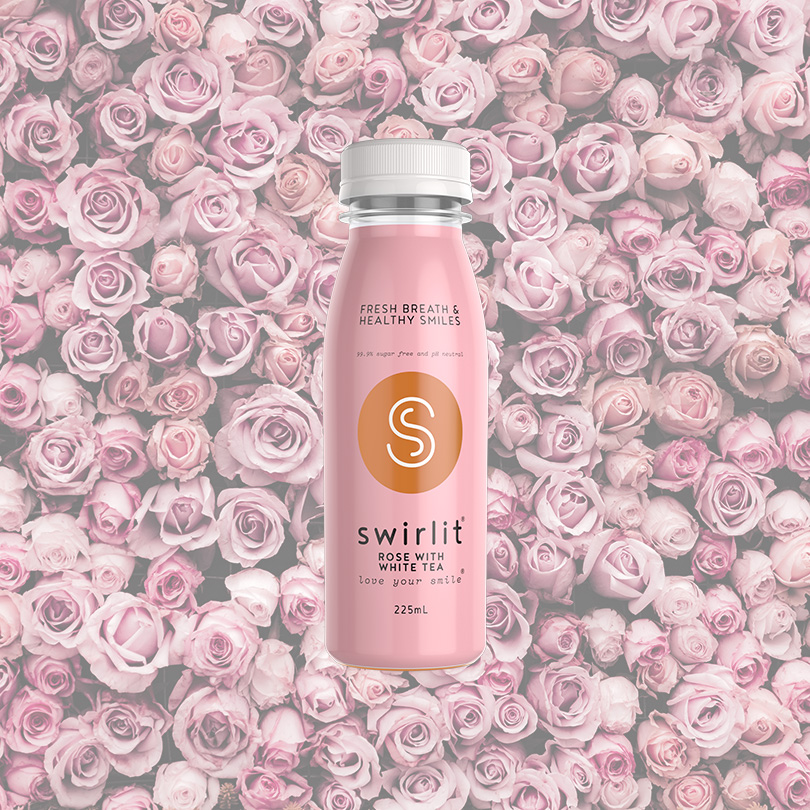 Swirlit Rose and White Tea
Tasting like a combination of rose water and a Turkish Delight treat, Swirlit Rose and Tea will leave your mouth feeling fresh, clean and hydrated.
Rose extract has antibacterial, anti-inflammatory, anti-fungal and anti-oxidant properties and is recognised for its benefits to skin health and digestion. It has also been found to reduce plaque formation on teeth and reduce bacteria that causes gum disease. White tea is rich in antioxidants and assists with oral health by reducing plaque.